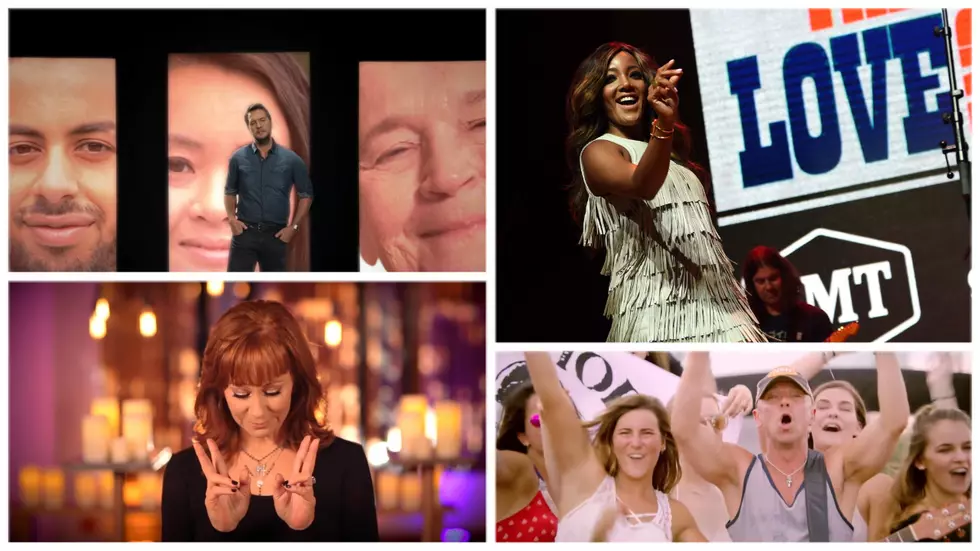 5 Country Songs That Inspire Peace and Unity
YouTube Images/Getty Images
Country music has always had healing properties. Whatever situation we find ourselves in, there a country song or two that can help get us through the difficult times.
With all that's been going on over the last few months, a lot of people turn to music to help start the healing process. When it comes to country music, it's always addressed issues in a very personal way that other genres just don't.
So with tensions around the country running very high, here's a look at five songs that can hopefully help bring us all together:
1

"Get Along" - Kenny Chesney

The title alone on this song say's it all. It's a unity anthem from 2018 that has more and more meaning in times like these.

2

"Most People Are Good" - Luke Bryan

Yes, it's true, there are bad people in this world, but there are so many good people doing good things, that unfortunately, most of the time takes a backseat to the bad things some people are doing. Luke believes, so shouldn't we believe too?

3

"Black Like Me" - Mickey Guyton

She's somewhat of a newcomer to country music, but she nails this one. After hearing the lyrics, you would swear it was written based on what's happening right now, however she wrote it over a year ago because she was tired of seeing so much hate and oppression. It's a powerful message that is sadly more relevant than ever.

4

"Pray For Peace" - Reba McEntire

The lyrics may be very repetitive, but its message is timeless. Leave it to Reba to give us all a message of unity and love. This 2014 song was definitely one of her best inspired moments.

5

"Be A Light" - Thomas Rhett

Here's what happens when you combine Thomas Rhett, Reba, Hillary Scott from Lady Antebellum, Chris Tomlin, and Keith Urban. You get a song that truly inspires hope, and goodness. Released just prior to the Coronavirus shutdown, Rhett is donating a portion of the proceeds from this song to the COVID-19 relief foundation, which will help out artists who will not be able to tour this entire year because of the pandemic.